xxx




Life:

English, educated at Watford Grammar School for Girls (1968-75) and Cambridge (King's College), 1975-81 (BA and PhD)



Career

: University of Exeter 1981-92, including Head of Department;
Senior Lecturer at University of Bristol 1993-95;
Professor of Latin at Royal Holloway 1995-2000;
Professor of Classics at Yale, 2000-2004
Professor of Classics at Stanford, 2004-2007
Canada Research Chair in Latin Poetry and its Reception, UBC, 2007-



Interests

: music (from baroque to techno, esp. blues, Latin, trad jazz, Radiohead, Bach, early Fleetwood Mac, The Pixies, Queen, Beethoven, U2, Buena Vista Social Club, Pulp, Greenday; playing bass guitar), animal welfare, wildlife and ecological issues



Animal companions
: Clarence the guinea-pig (1979-1982), Koshka the Siamese cat (1987-1990), Georgia the Jack Russell terrier mix (1989-1990), Millie the Jack Russell (1990-2011 ), Florence the tricolour corgi (1990-2001), Toby the American Eskimo (2001- ), SuzieQ the mutt (2001- ), Reno the big black dog ( - 2011), Baxter the dachshund ( - 2012), Amos the dachshund, brother of Baxter, Gramps the pug, Junior the pug.
a newspaper article about
Amos and Baxter
---
xxx
xxx
Favourite books:

If I had to choose items from the classical repertoire, I'd choose Pindar's Odes, all of Virgil,and Apuleius' Metamorphoses.
Here's what I wrote for the Yale Review of Books 'Profs' Picks' a few years back:
I was blown away by Philip Pullman's trilogy *His Dark Materials*: *The Golden Compass* (1995), *The Subtle Knife* (1997) and *The Amber Spyglass* (2000). In a setting of parallel universes, Pullman explores themes as large as those of the classic epics of western literature – Homer, Virgil, Milton – through his admirable characters Lyra and Will (the names turn out to be significant). Love, loyalty, sacrifice. Things that especially appealed to me were (in no special order) the setting in the arctic north, the idea that people have daemons which manifest as animals, the anti-Church message, the treatment of awareness of sexuality ('Dust') and the ineffably heroic Iorek Byrnison, the armored polar bear who becomes devoted to Lyra. This is simply miles better than Tolkein and I know I'll go back to it again and again.
The prose and poetry of Janet Lembke is a recent discovery for me. She's a translator of Greek and Latin poetry and a passionate observer of the natural world – both of which speak to me strongly. Take her *Looking for Eagles – Reflections of a Classical Naturalist* (1990) in which she combines an appreciation of the flora and fauna of North Carolina with a most unusual investigation of classical mythology. For example, she tracks down the name assumed by Achilles when his mother dressed him as a girl to hide him so he wouldn't die young at Troy.
I just finished Sherwin Nuland's *How We Die: Reflections on Life's Final Chapter* (1993). It was fascinating from beginning to end and I would recommend it to anyone who would really like to understand how the body decays or is destroyed. Details stay with me – for example, that drowning in fresh water and drowning in sea water are very different processes. And Nuland seems to suggest that cancer is the disease that we deserve in this era of searching for immortality. As he says, cancer cells are the ones that don't have 'the decency to die when they should'.
I still stand by those three choices. Of the many novels I've read since, the most memorable are

Disgrace

and

Waiting for the Barbarians

by J.M. Coetzee and

The Loop

by Nicholas Evans, author of

The Horse Whisperer
---
xxx
Some past email signatures:
My signature - and my aspiration - is taken from the memorial to GEORGE PARDEE (1630-1700), the first settler to own the land at the sea-wall at Morris Cove, New Haven, where I lived:
"FARMER, FERRYMAN AND TEACHER OF LATIN AND GOOD MANNERS"
"Maybe you'll be president / But know right from wrong"
(Radiohead, 'Hail to the Thief')
"She said she would love to come help but
The sea would electrocute us all."
ars longa, vita brevis, and though your email may be consummate art my
life is too short to read beyond the second screen. Please keep your
messages brief!
---
favourite fonts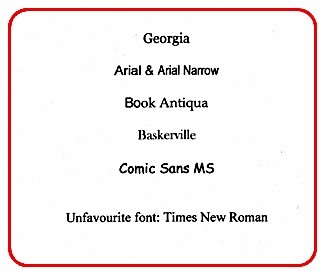 ---
xxx
Car history

:

Fiat 850 (!),
VW Beetle,
VW Polo,
Saab 900 (4 door),
Saab 900 (5 door)
Saab 900 (new shape - the GM model – not a real Saab at all)
Saab 900 (4 door)
Mini Cooper S
Audi allroad
Suzuki SX4

---



xxx


Assorted achievements:

conveying a party of 30+ inebriated classicists from UK Classical Association conference venue to downtown Liverpool to attend a nightclub via 7 taxis in convoy without losing anyone

Minesweeper scores of 15 seconds for 10 mines, 91 seconds for 40 mines and 311 seconds for 99 mines!

helping my husband Adam learn to ride the unicycle during autumn 2002 (and no, I have no intention of attempting this myself)

DJing a regular radio show 'Old New Borrowed & Blues' on KZSU Stanford during 2006-7

playing bass guitar with The New Ancients (Corby on drums), James on vocals and keyboards, Mike on guitar and vocals) at Cameron's in Half Moon Bay, California in March 2007 and on my deck at my farewell to California party in June 2007; playing bass guitar with NEWOB at Bowfest a few weeks after arriving in Canada (Yvonne on vocals, Doug on guitar and Jim on drums); playing bass guitar with Deer In The Headlights (Marc on keyboards and vocals, Doug on guitar, Jim on drums, and now Janice on vocals and another Doug on guitars too); playing bass guitar with Taken (Brenda on voclas, Ron on vocals, harmonica, rhythm guitar, Pete on guitar, Jim on drums); playing at the acoustic kitchen junket with Heidi on guitar and (yet another) Doug on mandolin

writing a good song: 'Lady Godiva Knows', first performed at the kitchen junket and later by Deer Undrummed on New Year's Eve 2009
---
I play bass in two bands.
Deer in the Headlights : page on this site soon
Taken : the very smooth Taken site
some Taken music files



---
Bowen Animal Affairs
9 August 2012 : Finding a forever home
4 October 2012 :
Deworming is a valuable part of pet care


26 October 2012: Little brown bats

24 Jan 2013: Owls and their prey

20 June 2013; Yellow ribbons for dogs

11 July 2013 : Deer in the headlights